-- visit suzhou xiran general manager wang jingxu and Japanese furende dabo minister ding concurrently
Editor's note:
One such enterprise was established in 2013. In just five years, it has developed into a high-tech enterprise that integrates r&d, production and sales of crushing, drying, mixing, coating and other machinery and equipment for and supplying lithium electric materials. Based on the enterprise concept of "sharing weal and woe, winning and mutual benefit", and the spirit of "bearing hard work and bearing a tripod", they have won the trust of customers by the way of quality and the trip of craftsman. In the increasingly competitive market, they have realized the dazzling display and gorgeous leap. They are suzhou xiran I industry equipment co., LTD. The 16th China international powder processing/bulk transport exhibition (IPB 2018) was held from October 17 to 19, 2018.
Set advanced technology to shape brand characteristics
At present, China is constantly opening up the new energy policy, the production of lithium electric equipment enterprises are emerging in an endless stream, and several stars in the rapid growth, leading to the lithium electric equipment market competition is becoming more and more fierce. Enterprises want to take a place in the fierce competition, they need to constantly bow | into advanced equipment and technology, in order to better meet the needs of customers.
Due to the early start of the manufacturers of lithium electric equipment from Japan and South Korea, the Japanese and south Korean companies now have a leading edge in the field of power lithium batteries. Suzhou xieran industrial equipment co., LTD. In the research and development, production and sales of lithium electric materials crushing, drying, mixing, coating and other mechanical equipment, but also with Japanese companies to cooperate. Suzhou xiran general manager wang jingxu mentioned that at present the company has cooperated with Japanese companies such as Japan furende dabo, solid gravel engineering, CMG precision machinery, and obtained the agency of some of their products in China.

"The company combines world famous manufacturers, integrates their technology, integrates advanced technology into one, and then absorbs and shapes its own brand, which is one of our technical specialties," said ding he, director of the overseas business department of Japan's furende dabo.
As for the price, compared with the high-cost automatic production lines abroad, the innovative automatic and manual low-cost production lines of Chinese enterprises make the price of lithium electric equipment more advantageous. Domestic equipment is more adaptable and easier to meet the requirements of domestic customers. "Absorbing advanced technology from Europe and Japan to create high-quality products, but the price is China's domestic price," ding said. To the integrity of development, quality and survival. "High quality + low cost" is also an important principle for jiangsu to achieve rapid development in just five years.
Innovation drives ambition
IPB 2018, jiangsu xi however, highlights 5 products, coarse grinder, ceramic roller, mechanical mill, foreign matter removal machine, stone mortar mill.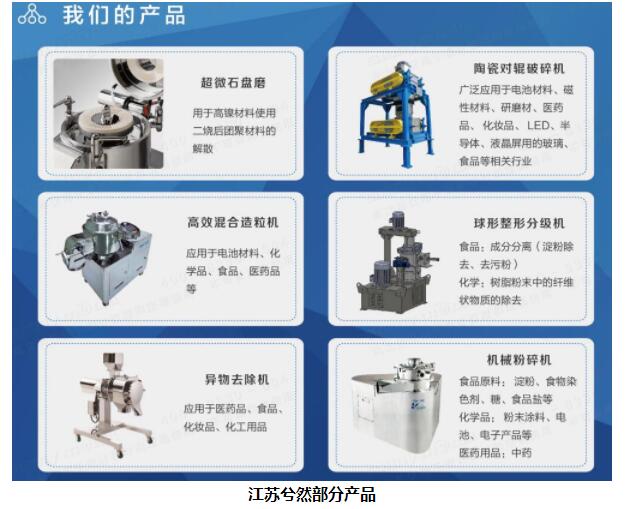 As for the application of the products, ding and minister said: "the main market of the company at present is about the crushing, mixing and coating equipment of battery positive and negative electrode materials, in addition, it also involves food, cosmetics and other industries.
At present, many domestic lithium battery enterprises do not pay attention to product research and development and market cultivation, but simply imitate and copy, often trapped in a small market circle. Therefore, if the lithium battery equipment industry wants to achieve long-term development in the future, it is necessary to change from introduction to independent innovation, from manufacturing to creation, and pay attention to meet the technological requirements in the details of battery production.
"The company attaches great importance to research and development, employs foreign experts from Europe and Japan, and has set up a specific research and development department in the last two years," ding said. Suzhou xiran has been established so far, has obtained a number of invention patents and practical patents, has been approved as the Chinese academy of sciences suzhou institute of nano lithium engineering application center of the industry-university-research base, and won the jiangsu province private science and technology enterprises, jiangsu province science and technology smes and other honors.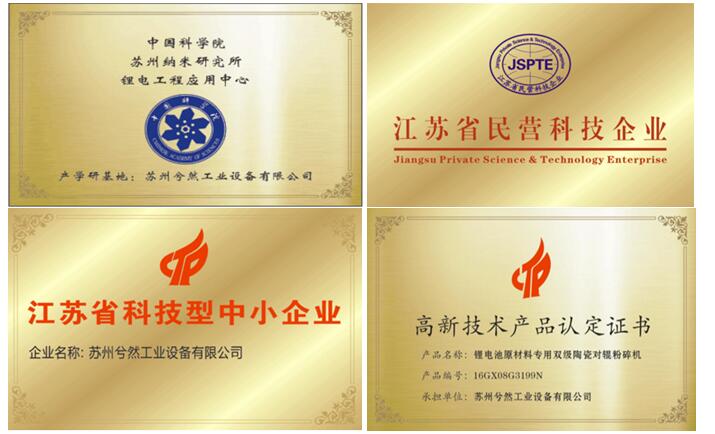 In the future, suzhou xiran will drive product upgrading based on the r&d department. Ding also said he would combine Chinese manufacturing with low-cost creation. In the future, they will devote themselves to making products with low price and high quality that surpass Europe and Japan.
Post-interview
Lithium battery market into the "spring and autumn" era, innovators, the world. Li-ion equipment manufacturers need to keep up with industry trends. Know what customers want, do what customers need. Set quality resources for quality products. Xi, the beginning of sincere cooperation and the end of win-win dream. This may be the magic weapon that makes jiangsu Xiran a winner.